Paper on high-quality oligosaccharides from biopolymers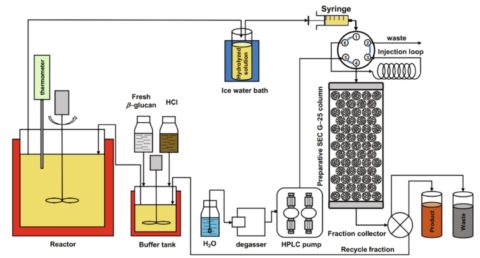 Malte Kaspereit co-authored a paper with Hoang Nguyen (now at Northumbria University, Newcastle/UK) and Tuomo Sainio (LUT – Lappeenranta-Lahti University of Technology, Finland) that covers an experimental-theoretical study on the production of oligosaccharides from natural sources. It is shown that high-quality oligosaccarides – which are promising as healthy food ingredients – can be obtained with defined molar weight distribution by recycle-integrating an acidic hydrolysis reaction with a separation by size exclusion chromatography. The paper stems from the collaboration of Malte Kaspereit with Tuomo Sainio on the design of reactor-separator-recycle processes. Part of the work was performed by Hoang Nguyen during a three-month research visit in the Advanced Separation Processes group at TVT.
The work was supported by the Collaborative Research Centre CRC 1411 "Design of Particulate Products".
H. S. H. Nguyen, M. Kaspereit and T. Sainio: Intermittent recycle-integrated reactor-separator for production of well-defined non-digestible oligosaccharides from oat β-glucan. Chemical Engineering Journal 410 (2021) 128352.