Annual meeting of the ProcessNet research group Adsorption 2021 in Frankfurt am Main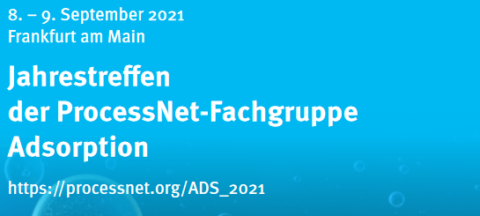 The annual meeting of the ProcessNet research group Adsorption took place in Frankfurt am Main, Germany, from September 8 to September 9, 2021. The working group Adsorption and Nanoporous Materials Characterization participated with great presence at this first live event since the start of the restrictions due to the Covid-19 pandemic. Current research results of the institute were presented during two presentations.
Peter Leicht talked about "Adsorption and phase behaviour of pure fluids in hierarchically organized nanoporous materials over a wide range of temperatures and pressures" (P. Leicht, S. Eder, M.Thommes*). and Carola Schlumberger about "Adsorption and nanoporous materials characterization in the liquid phase: Novel  methodologies based on NMR relaxometry and Inverse Size Exclusion Chromatography " (C. Schlumberger, U. Schmidt, A. Michalowski, M. Thommes*). This work was supported by the Collaborative Research Centre CRC 1411 "Design of Particulate Products".