PhD Seminar Adsorption 2022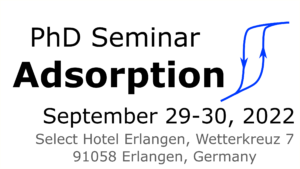 The Institute of Separation Science and Technology (TVT) and the ProcessNet research group Adsorption are pleased to invite you to the PhD Seminar Adsorption, which will take place from September 29 – 30, 2022 at the Select Hotel Erlangen, Erlangen (Germany).
The PhD seminar adsorption is a forum for young researchers to share and discuss their work and strengthen their professional network. The event is called PhD seminar, however colleagues in the surrounding career paths – Master and PostDoc researchers – are very welcome. Participants will have the opportunity to present their work and build their professional network in a relaxed and casual environment. It is anticipated to attract young researchers in the relevant field. The exchange with fellows and the established network will be beneficial to shape their future development as next-generation experts.
Topics
Topics of interest include, but are not limited to the following areas:
Thermodynamics of adsorption
Gas phase adsorption
Liquid phase adsorption and chromatography
Novel adsorption processes
Novel adsorbents and their characterization
Scientific Advisor
Contact
Program
The approximate schedule of the PhD Seminar Adsorption 2022 is as below:
| | | |
| --- | --- | --- |
| Date | Time | Session |
| Thursday, September 29 | 13:00 – 17:00 | Seminar |
| | 17:00 – 18:00 | Lab tour at the Institute of Separation Science and Technology (TVT) |
| | 19:00 | Dinner |
| Friday, September 30 | 8:30 – 16:00 | Seminar |
Call for abstracts
The format of this seminar is a presentation about your work (approx. 15 min talk + 5 min questions and discussion). There will be no posters. If you have any questions regarding your presentation feel free to contact us. E-mail adresses can be found below in the section "Contact". We are looking forward to your submission.
Registration
Please send your Abstract and Application Form to carola.schlumberger@fau.de for registration. Registration is open until September 01, 2022. 
Downloads
Accommodation
Select Hotel Erlangen (Conference Hotel)
Wetterkreuz 7
91058 Erlangen, Germany
E-Mail: reservation@novum-hospitality.com
Code: 20221029_FAU
Single Room: 59 € (incl. breakfast and WLAN)
Rooms are reserved for the PhD Seminar until September 01, 2022